TOP STORIES:
The Fall Citizens Police Academy is ON!!!
We are receiving applications for our fall Citizens Police Academy, but still have additional open seats available! The academy will be held every other Thursday, tentatively starting on September 14th and running through November 9th. The sessions will begin at 6 PM and end by 8:30 PM. Due to a generous donation by a Greenhills resident, there is no cost to attend the academy!
All who attend will receive shirts, food, and will have the opportunity to participate in simulated pursuits and firearms scenarios. Our patrol officers, investigators, and other staff collaborative to make this a "Don't Miss" event - our Citizens Police Academy Alumni tell us that the classes were informative as well as fun! If you are interested, applications are available in our lobby and online here.
______________________________________________________________

To see our latest monthly report, click here.
It highlights the department's recent participation in Pioneer Day, recent criminal activity, visitors from Sweden, and an opportunity to participate in the free upcoming Fall Citizens Police Academy.  Its all inside!

To see other monthly reports, click here. 
 If you would like to be added to our MONTHLY REPORT e-mail list, click here.  Specify MONTHLY REPORT in your response.
| | |
| --- | --- |
| | Everyone at our recent bike rodeo had a great time, especially this winner! Check it out here.  |
CRIME ALERT!  Received from a resident in the "J" section: 
"I  wanted to make the department aware of a particularly persistent phone scam that was calling our house yesterday.  It was a woman with a strong foreign accent (Chinese would be my guess) trying to convince her callers that because we've been regular taxpayers and don't get behind on our bills that the U.S. government had chosen us for a one-time $7,000 payment. Her instructions were to get some paper to write down a confirmation number and then a phone number you would call back.
I probably wouldn't even bother to report this, except for her persistence, which I suspect could be a problem with senior citizens and other vulnerable people. I told her it was a scam and I would be reporting her to the police, but after hanging up on her, she immediately called back and wanted to argue with me that it was not a scam. I hung up again, but in the next five minutes, I think the phone rang three more times. (I had stopped answering at that point.)   Pretty brazen stuff, so I guess they feel very sure no one is going to catch up to them. The least I should do, I figured, is at least report this to you guys. It's very frustrating to think of the people who will end up victimized by these people." 

NOTE:  When you have determined a telephone call is from someone you don't know or don't want to speak with, don't hesitate to hang up.  If it is a legitimate solicitor, you can tell them to place you on their No Call List, but as with all things, this may not work.  You can block an incoming telephone number, and your telephone provider (or most teenagers!) can assist you with this.  NEVER provide any information about yourself or your financial accounts to anyone you do not know!

__________________________________________________________________
You.  Yes, you.  Did you text while driving today?  Ever?  If you did, this message is for you.  If you ever have, click here.  This message may change your life.  No, scratch that.  This message may save your life.
____________________________________________________________
 Police Annual
Report Released
See all of our latest activities - see if you or your neighbor were there at one of the many community events.

To see the report, click HERE.  ___________________________________________________________
 Greenhills Police Officer
Apprehends Murder Suspect
 Greenhills Police have identified and arrested the man suspected in a fatal shooting outside of a Springdale lounge.  Workers at the Indulge VSP Lounge on Glensprings Drive called police to report trouble with a patron early Thursday morning.  A fight broke out on the dance floor between Shawndre Houston, 33, and David Salter II, both of Cincinnati.
After the bouncer broke it up, Salter's friends reportedly began assaulting Houston.  He was repeatedly struck in the face as bouncers attempted to end the second fight.  Houston then left the lounge in a gray Hyundai Sonata with his cousins Keonta Hardy and Laray Bush.  Houston drove around the club twice before stopping next to Salter. Houston fired five shots from the car, hitting Salter 2-3 times.  Salter was taken to Bethesda North Hospital, where he died. 

The car was spotted and stopped by a Greenhills police officer and the three men were taken into custody.  Houston was charged with Aggravated Murder.  Hardy, 22, received a charge of Obstructing Justice for denying being at the scene of fight and shooting, contrary to what was seen on surveillance footage.
The Greenhills Police Officer was commended for his alertness and diligence. 
__________________________________________________________________________________
We Start 'Em Young!
Chief Ferdelman and Lieutenant Ward welcome a young resident and possible future recruit to the department
_________________________________________________________
" A Professional, Progressive
Police Agency Doing the
Rights Things the Right Way"
Assessment Team Recommends Reaccreditation
The following was sent to Greenhills officers, the Municipal Manager, the Mayor, and Council:
OFFICE OF THE CHIEF OF POLICE
GREENHILLS, OHIO
 TO:       All Police Personnel
 CC:        Municipal Manager, Mayor, and Council
 ON:       December 15, 2016
 RE:       Reaccreditation
 Dear Colleagues:
 As you know, for the past three days, we underwent a rigorous inspection conducted by two assessors from the Commission on Accreditation for Law Enforcement Agencies, Inc.  (CALEA).  Some of you met with them or they rode with you.  Yesterday afternoon, the assessors met with me, Lieutenant Ward, Sergeant Lukes, Accreditation Manager Vonda Secoy, as well as the Municipal Manager and the Mayor. 
During this exit briefing, they reported their findings to us that will be relayed to the full Commission.  They found us in full compliance with all applicable standards, and will recommend our reaccreditation to the Commission when they next meet in March in Mobile, Alabama.  Vonda Secoy and I will have to testify before the Commission at that time and answer any questions they might have. 
Our assessors concluded that the Greenhills Police Department accomplishes excellent community outreach, and establishes significant relationships between the community and the face behind the badge.  These relationships, they observed, have generated goodwill throughout the community.  They further observed that our officers are committed to providing excellent customer service to our residents with a focus on continual improvement.  Our assessors said they were very impressed with what they saw.  They noted that we are a professional, progressive police agency that is doing the right things the right way. 
The assessors told us that the police employees they spoke with were open, accommodating, and hospitable.  A large component of their visit involved public outreach.  They spoke to six persons by phone, and 16 persons attended our public hearing on Monday.  All of the comments received were complementary and supportive of the department.  These persons included residents, Citizens Police Academy alumni, school officials, and police officers and administrators from other jurisdictions.  That support comes as the result of the daily interactions that each of us has with them, and it reflects the good work each of you regularly do. 
The accreditation process is voluntary.  There is no state or federal mandate to participate.  It is designed for police departments that want to demonstrate excellence in what they do.  Our Council chose this path almost a decade ago, and the process continues to promote best practices for our agency, providing a benefit to our officers, staff, and community.  Outside experts arrived, observed, and collaboratively proffered suggestions that make us better.  It is a commitment to continuous improvement. 
Thank you for your role in the actions that set us aside as an excellent police department. 
Sincerely,
Neil R. Ferdelman
Chief of Police
The CALEA Assessors are pictured above with the GPD Accreditation Team.  From left:  Greenhills Police Chief Neil Ferdelman, Captain Peg Schmidt-Fuller, Chief John Letteney, Lieutenant Anne Ward, and Accreditation Manager Vonda Secoy.  
To learn more about CALEA in general, check the link here.  To find out more our specific on-site assessment and our assessors, check the link here. 
____________________________________________________________________________________
Shop With a Cop!
The Greenhills Police Department was privileged to partner with the officers from the Forest Park Police Department in the annual "Shop With a Cop" program. 
On December 10, Greenhills Officer Zzach Clark and Forest Park Officer Rebecca Eavers took eight children to a local Walmart, and at the end of that day, made the holidays brighter for them. 
This cooperative initiative was coordinated by Forest Park Police Lieutenant Jim Ward.  The countywide initiative is made possible by the Police Athletic League and Walmart Stores.  We can't think of a better way to celebrate Christmas! 

Merry Christmas to All!
_______________________________________________________________________
Greenhills Graduates Second
Citizens Police Academy

The Second Graduating Class of the Greenhills Citizens Police Academy
Left to right: Dot Buttree, Corporal Bryan Johnston, Carolyn Savage, Tricia Murray, Kathy Fisher, Ryan Murray, Donn Bolce, Joy Hoffmann, Lieutenant Anne Ward, Donna Hadley, Ockie Hoffmann, Carolyn Feder, Sergeant Tim Lukes, Dannie Brownfield, Chief Neil Ferdelman, and Mayor David Moore.
On November 10, we graduated our second Greenhills Citizens Police Academy Class.  For more information about the class, see the link here. Our graduates have told us this was both an interesting and fun experience.  If there is sufficient interest, we plan to hold another Citizens Police Academy class in February of 2017.  The classes will be conducted in five sessions every other Thursday from 6 PM to 8:30 PM starting on February 2, 2017.  If you are interested, an application form can be found at this link, in our lobby, or call us at 513-825-2101 and we will mail one to you.

_____________________________________________  

Be on the lookout for persons stealing holiday packages!
If you would like to be added to our CRIME ALERT e-mail list, click here.  Specify CRIME ALERT in your response. 

________________________________________________________________________________
 Mayor Declares June as
Greenhills Police Month
Greenhills Mayor David Moore declared June as Greenhills Police Month at a Concert on the Commons on June 8.  During a ceremony at the concert intermission, the Mayor and Municipal Manager Evonne Kovach honored the department, including its most senior officer, Tony Patton, and its newest officer, Zzach Clark. Alumni from our Inaugural Citizens Police Academy planned the ceremony and were on hand to assist and distribute materials to the crowd.  To see photos of the event, click here.  To see a copy of the Mayor's Proclamation, click here.  To see Officer Patton's certification, click here.   
---
Did You Miss the Drug Prevention Seminar at the Troubadour?
 Check it out HERE!
Broadcast Courtesy Waycross Community Media
---
Miss our latest Community-wide Crime Prevention/Neighborhood Watch Meeting?

Catch it HERE!
Broadcast Courtesy Waycross Community Media
---
 Golf Carts in Greenhills!
In 2015, the Greenhills Council passed an ordinance that will allow the operation of golf carts on our residential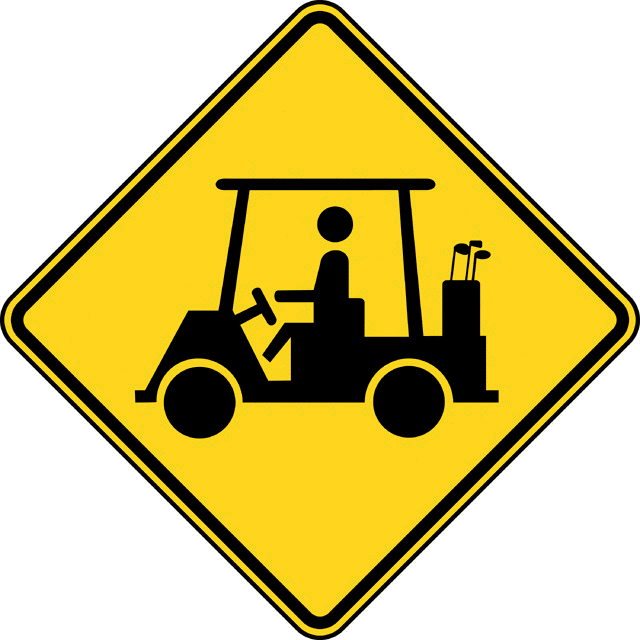 streets, with certain limitations.
The restrictions are designed to ensure the safety of everyone on our streets, including those in golf carts. They include:
Golf carts are only permitted on village streets where the speed limit is 25 MPH, which means that they cannot be driven on Winton Road (they are permitted to cross Winton).

The operator of a golf cart must be at least 16 years of age and have a valid driver's license;

All child safety seat requirements for motor vehicles apply to children under the age of nine. Safety belts are required in the front seat for all.  To see all of the items that are inspected as required by Ohio law, click here.  

Golf carts must be operated in accordance with all State of Ohio traffic laws in addition to all applicable sections of the Greenhills Municipal Ordinances.
Prior to operation on our residential streets, a golf cart must be registered with the State of Ohio as a motor vehicle and inspected by the Greenhills Police Department. Once a golf cart owner is ready for an inspection and contacts us at 825-2101, an officer will come to the owner's residence or Greenhills business to conduct the inspection.  INSPECTIONS ARE PROVIDED TO GREENHILLS RESIDENTS OR BUSINESS OWNERS ONLY FOR GOLF CARTS TO BE OPERATED IN GREENHILLS.  The officer will verify the owner's valid operator's license and proof of insurance, and visually verify all of the equipment that is required by Ohio law to be present on a registered motor vehicle. This includes seatbelts in the front of the cart, a horn, taillight and reflectors, license plate light in the rear and license plate brackets, working headlights, horn, rear view mirror, windshield, turn signals, proper steering and brakes, and windshield wipers.
If the cart does not pass inspection, the cart owner will be advised what corrections are needed to pass, and asked to re-contact the department when the corrections have been made. If the cart passes inspection, the owner will be:
Directed to come to the department the following business day where he or she will be required to pay the designated annual inspection fee (currently set at $25.00),

Issued a Golf Cart Certificate of Compliance, and

Issued a Golf Cart Safety Inspection sticker, effective for one year, for placement on the rear of the golf cart.
We are ready to conduct the inspections now and welcome your calls.  Once the golf cart has been successfully inspected and issued a sticker, the operator must obey the same traffic laws that apply to all other vehicles in addition to those that specifically govern golf carts as listed above. This ordinance provides our residents with a mechanism to have some fun. We hope all who use carts on our streets enjoy themselves but ask that while doing so, they operate them safely and in compliance with the law.
---
Beware the LATEST scam targeting residents
R
esidents have reported receiving scam calls involving the Affordable Care Act.  The scam is just the latest in a string of those deployed by criminals looking to swindle residents out of money.
About 1,200 Ohioans reported they were targeted by scam artists this year, according to Attorney General Mike DeWine's office. Those included scams made by phone, on computers and through the mail, his office said.
"Every day, there's a scammer who picks up the phone, tells a big lie, and tries to get money from someone in Ohio," DeWine said. "No longer do thieves have to rob a bank to get cash. They just pick up the phone, tell a very detailed, believable story — and smart Ohioans all over the state fall for their scam."
The best way residents can avoid falling for these con artists' lies is to be aware of their schemes, he said.  Older residents are often the target of scams, according to the AARP, who said seniors should use caution when a caller requests personal information.
In the Affordable Care Act scam, callers are taking advantage of consumers' uncertainty surrounding the law, according to the AARP.  "Posing as insurance agents or representatives of the federal government, these scam artists try to sell fraudulent policies or obtain sensitive information like Social Security and bank account numbers," a press release from the AARP said.
The Ohio Attorney General's Office received more than 1,670 identity theft complaints in 2015, an increase of more than 300 from 2014.  Anyone who believes someone has attempted to scam them should file a complaint online at www.OhioAttorneyGeneral.gov or by phone at 800-282-0515.
   CRIME ALERT! 
We received the following bulletin from
the Ohio Department of Public Safety:
A foreign-based group is hiding information-stealing malware inside Christmas-themed mobile apps.  The group appears to be engaged in both economically-motivated Internet Protocol (IP) theft and gathering intelligence which could be useful to governments.  These hackers are seeking documents that provide classified data from software companies and government organizations.  The malware takes files and screenshots before sending them to a command and control server in Germany.  The group is actively recruiting mobile app developers and has been pushing out Christmas-themed mobile games loaded with malware, which connects back to the same IP address in Germany.  The malware has already infected approximately 8,000 devices and is designed to steal data from the victim's devices including contacts, SMS, call records, location information, calendar, photos, and browser history.
Beware of what you and your family members install on your smartphones!  
Allow installations ONLY from trusted, authorized 
sources such as I-Tunes or Android Play Store.   
---
Crime Prevention & Package Deliveries
We received a report from the "J" section of a package delivered by UPS t
hat could not be found by the homeowner.  If you know that you will not be home when a package is delivered, it is a good idea to have it delivered to your work address if possible, or to a family member or trusted friend who will be at home.  In fact, one of our residents reports that both UPS and FedEx have a delivery application for your computer or smart phone that lets the receiver manage or change delivery preferences.  If you have a package scheduled, contact the carrier by phone or through their website for additional details. 
---
Greenhills Neighborhood Watch
by Lieutenant Anne Ward
The Greenhills Police Department is in the process of developing a community based block watch organization and is looking to find interested citizens who would like to participate in the program. The block-watch program will be designed to focus on matters that are important to the residents of Greenhills.
The police department will work in conjunction with block watch members to reduce crime, the fear of crime, and improve the quality of life for all of the people that live and work in the Village. If you would like to be a member of this proactive group, you can either call the Greenhills Police Department at 513-825-2101 or apply online. Apply here.
Once the program is underway, we plan to conduct training for block watch members, along with regular meetings. We hope citizens are interesting in joining us to keep our community safe!
The Greenhills Police Department, in partnership with our citizens, will excel in providing dependable and professional service to ensure the safety of our community. 
---
Child Safety Seat Alert
The Greenhills Police Department has issued a good number of citations to motorists recently for violation of child safety seat traffic laws. Our first priority is to the safety of motorists and their small passengers. Here are Ohio's laws regarding infant and child safety:
Ohio's children are required to use belt-positioning booster seats once they outgrow their child safety seats until they are 8 years old, unless they are at least 4 feet, 9 inches (57 inches) tall.
Ohio's child passenger safety law requires the following:
Children less than 4 years old or 40 pounds must use a child safety seat meeting federal motor vehicle safety standards.
Children less than 8 years old, unless they are at least 4 feet, 9 inches tall must use a booster seat.
Children ages 8-15 must use a child safety seat or safety belt.
Fines will range from a minimum of $25 to a maximum of $75 per occurrence. A booster seat can be purchased for as little as $15. Don't wait for a ticket!
---
 The Greenhills Police Department is a member of the Hamilton County Heroin Task Force
First Responders Form Heroin Task Force
First responders from throughout Hamilton County, including representatives from the Greenhills Police Department, met today to announce the formation of a task force to combat heroin in our communities. For more on the story, click here.
---
Latchkey Kids . . .
40% of American children are left alone everyday. These 'latchkey children' need special help - they're uniquely susceptible to unsafe situations.
To see statistics, other information, and tips for latchkey kids, click here.
For a checklist of suggestions and a resource that you can use to help your child in case of emergency, click here.
---

In December 2013, the Ohio General Assembly expanded the state's "Move Over" Law, which requires motorists to cautiously shift over one lane — or slow down if changing lanes is not possible — when passing any vehicle with flashing lights on the side of a road. Its purpose is to protect everyone who works on our roads—including thousands of law enforcement officers, emergency personnel, construction workers, tow operators and many others—and everyone who travels on them.
To learn more, click here: MoveOver.Ohio.gov.
Seat belts are the most effective safety feature ever invented and have helped save thousands of lives. Sadly, one in five Americans fail to regularly wear a seat belt when driving or riding in a motor vehicle. If you "Click It," we won't have to "Ticket" and we will continue to reduce seat belt fatalities on Greenhills' safe streets.